Our 2015 Commission Chart: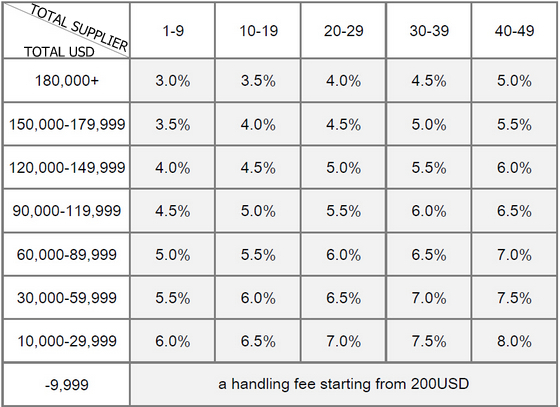 * Above rate will increase by 3% for customized products while standard products commission rate remain unchanged. 
You have the option to:
Pay a commission as per above formula.
Pay a fixed commission rate of ____% after discussion.
Pay a flat handling fee of __________USD after discussion.
How Our Chart Works?
You order total 50,000USD, from total 9 suppliers, with 5,000USD products to be designed and produced only for you(not ordering standard products), our commission will be: 45,000USD * 5.5% + 5,000USD * 8.5% = 3,175USD
It requires times more workload during customization. If factory make mistakes, we can easily lose all our commission. 
Is Our Commission "too high?" 

- It ONLY looks high. But NOT high at all!
In the end, profession plus dedication plus long-term can save you MUCH more money than paying a higher commission. 
Disorganized market visit management can waste you lots of time, costs you lots of money.
Not-thorough follow up and careless QC can lead you receive sub-standard products, can-not-sell products, even wrong products. 
Poor coordination and poor supplier handle ability can easily cause delay and delay and delay. You miss your best selling season.
Improper packing and wrong container loading can cause LOTS of damages.
This is not "talking scary". You will have a big change to experience all of above by working with a wrong agent.
Importing from Yiwu is a high-rewarding-and-high-risk-business. As long as you get the right products, your profit is certainly times more than our commission. By working with a professional, dedicated, long-term agent, your risk is greatly reduced.
Why We Count "total suppliers"?
- Just by common sense:
Handle 50 suppliers and handle 5 suppliers, the workload varies dramatically. The headaches varies dramatically too.
>> Back to Yiwu Market Buying Agent